Glass Table Tops
Has the glass on your coffee table seen better days? Don't throw the whole thing out, when you can replace the glass with Modern Glass Company and make it last years longer, at a price you can afford.
Protect your conference table
Your conference table is an antique, and you're worried about clients spilling coffee and food on it. Protect it but still let its beauty shine through with a custom cut piece of glass over the surface, professionally installed by our friendly staff.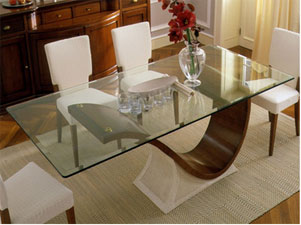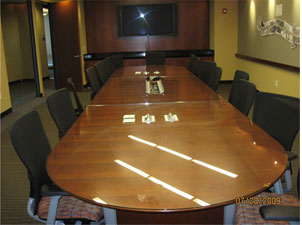 Keep your furniture in top condition:
Offices and homes
Conference tables
Rounded and square glass
Coffee tables
Dining room tables
Custom cut pieces
Tempering is generally not recommended for interior table tops (it is required by code for outdoor tables). The tempering process may warp and distort the smoothness of the glass surface.
We fabricate glass table types in various sizes and shapes, whether a simple rectangle or diameter, or a custom shape to fit a unique piece of furniture. We can fabricate simple shapes with dimensions only, while more complicated shapes will require a template.
Call Modern Glass Designs, inc. today at 703-595-2999 for your free estimate.
Edge Work
Glass Protector Tops and in 1/4″, 3/8″ and 1/2″ non-tempered custom cut sizes will have Flat polished edges unless advised otherwise.
Glass Standoff Counter and Bar Tops
Process both done to increase the strength up to 4 to 5 times that of annealed glass. When subjected to stresses outside its capacity, Tempered Glass merely disintegrates into numerous small pieces, significantly decreasing the danger of serious injury. Tempered glass is for use where glass is most susceptible to human contact such as doors, windows located close near floor, on landings of the stairway and enclosures for shower or tub. Your safety and the safety of your family, guests, and visitors is the responsibility we take very seriously.
Glass Shelving
Looking for glass shelving? Steel Glass & Mirror offers a wide array of of glass shelves and mounting options for glass shelves. This includes everything from shelves for cabinets to custom audio racks to retail store shelving These shelves can be edged to meet your needs which includes standard ground edges, polished edges and beveled edges. We can custom machine notches, holes or anything else needed to make the perfect mounting system. Check out our shelving gallery ?for some of the options we offer.
All our installations include the "extra details" you will find in the finest homes and business's. That's the only way we do things and the reason you will find our work in Award Winning homes throughout the DC area.
Refine any room with an attractive and functional glass shelf. Glass shelves are an inspiring solution to your design needs. Creating custom glass shelves is another specialty of Modern Glass Designs Company. We'll help you save time and money, meet your specifications, and help you find the right finish, hardware and glass. And because we have the machinery to cut and polish your glass shelves on site, you'll have your shelves installed in record time. So give your bathroom the illusion of more space and accent your kitchen cabinets with custom glass shelves.
Glass shelves are a stylish option for all your shelving needs:
Wall shelves
Corner shelves
Book shelves
Bathroom shelves
Kitchen shelves
Cabinet shelves
Floating shelves
Retail shelving
Display shelves