Planning
size, shape, door swing & location
Want a worry-free, leak-free, easy-to-maintain frameless enclo- sure? Then plan for it from the beginning …
Shower size and shape impact a frameless enclosure's effective- ness in managing water splash. We recommend at least 42" in depth and 48" in width. For neo-angled showers, consider 54"x 54" as a minimum. A frameless enclosure for a smaller shower is likely to have water retention problems.
Plan your door location so that it's easy to reach the water controls as you open the door. Building codes require shower doors to open outward, so check that there is adequate swing room out- side the shower. We recommend door widths from 28" to 36" wide for single doors and double doors where wider access desired.
To maximize water management, locate your shower head so it does not spray directly onto the door.
The top of your shower glass should be at least as high as the shower head. A height of 80" above the curb is usually equal to the top of the trim above a standard interior door. The surround material and other architectural features in the room may also de- termine the appropriate and aesthetically pleasing height for your glass enclosure.
Steam enclosures require glass to go all the way to the ceiling or to a soffit, either of which should be surfaced with tile or or other water-resistant material, not painted sheetrock.
Designing
glass, hardware, finishes, ease of use
Most frameless glass enclosures use tempered 3/8" glass. For taller than typical enclosures 1/2" thick glass is a suitable choice. More textures are available in 3/8". Exceptionally tall showers are better served by 1/2" glass.
Textured glass can greatly impact the final look of your bathroom. Today's glass choices range from transparent, almost invisible glass to geometric and organic patterns for a decorative effect to neutral designs for total privacy. Custom sandblasted designs are available to further personalize your space.
In addition to your glass selection, hardware can play a role in cre- ating the final appearance of your enclosure. Hinges, pulls, clamps, towel bars and hooks range from traditional elegance to sleek minimalism – even industrial and Victorian in style – with many other transitional styles.
All standard plumbing finishes are available in shower hardware, and you can custom-match newly introduced finishes. If you must custom-match a finishe, plan on an extended lead time and a sig- nificant upcharge.
Pulls, towel bars and other accessory hardware should be selected for ease of use and daily convenience. With the attractive addition of a through-the-glass towel hook, your towel can be within easy reach, instead of across the room.
Storage space both inside and outside the shower can be expanded with visually light and airy glass shelving.
Building
surface choices, wall angles, curb tilt
We recommend using solid surface material wherever glass is to be attached, especially on horizontal planes, since smooth surfaces eliminate grout lines where water will inevitably collect. Stone, Co- rian, marble, and Silestone are among the many solid surface op- tions offered in a wide array of colors.
When framing your shower, be sure that all wall surfaces intersect with the glass planes at a 90° angle. This is especially important in neo-angle showers that are built using 135° walls.
Curbs should tilt slightly towards the shower drain. We recommend a minimum tilt of 1/8" to a maximum of 1/4" over the typical 4- 5" width of the curb. It is also important that shower seats and benches tilt slightly to shed water toward the drain.
Anatomy of a Shower enclosure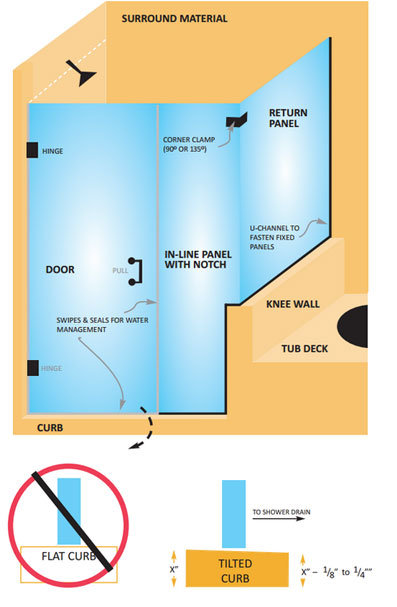 Do's
&

Don'ts

DO choose, for the horizontal surfaces of curbs and kneewalls, a smooth solid surface material to eliminate grout lines where water can collect

DO plan for a door width of at least 28" and no more than 36"

DO build your walls at 90° to the planes of glass

DO tilt your curb slightly towards the shower drain.

DON'T have a relief accent tile run through the plane of glass.
Mins
&

Maxs

4" Glass panel width minimum"

40 SF Panel maximum size in square feet

36" Maximum door width