Diamon-Fusion International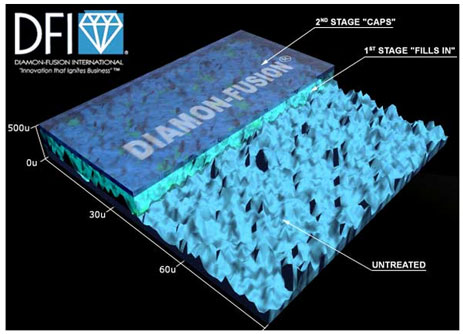 A patented nanotechnology, improves and protects the surfaces of glass, tile, porcelain, granite, and most silica-based surfaces.
Surfaces treated with Diamon Fusion become.
Highly water-repellent (hydrophobic).
Require less frequent cleanings
Experience a reduction in mold and bacteria.
Easier to clean – eliminating the need for harsh chemical cleaners.
Stain and graffiti resistant.
Oil repellent (oleo-phobic).
Scratch resistant.
Impact resistant.
Resistant to leaching of calcium and sodium(etching caused by hard water).
At least 1,000 times more electrical resistant(additional electrical insulation).
At least 20% more brilliant (shine in glass surfaces).
Capable of displaying DFI's Invisible Art Glass (clear glass only).
Environmentally friendly.
Guardian Showerguard Glass

ShowerGuard glass stays beautiful because its surface is protected during manufacturing through a unique ion beam process. This patented technology permanently seals the ShowerGuard glass surface, stopping corrosion before it starts. Unlike spray-on or wipe-on treatments that eventually wear off, the protection provided by ShowerGuard glass is part of the glass itself, so it never needs to be reapplied. That means your shower stays beautiful, shower after shower, year after year.
No matter how hard you try to keep standard shower glass clean, eventually it gets ugly. That's because hard water, soap and even everyday cleaning agents cause a corrosive chemical reaction that roughens the surface of the glass.
This gives spots, residue and scum something to hang on to – making your glass almost impossible to keep clean. Over time, the glass can appear dirty – no matter how often you try to scrub it clean.
ShowerGuard allows shower enclosure customization without sacrificing scum resistance. Thanks to Guardian's patented sealed surface technology, ShowerGuard glass stays beautiful and scum resistant shower after shower.
Available in 3/8″ and 1/2″ thick Glass, ShowerGuard allows homeowners to custom create spa-like environments they've always wanted-without committing themselves to a lifetime of heavy-duty cleaning.
Guardian ClarVista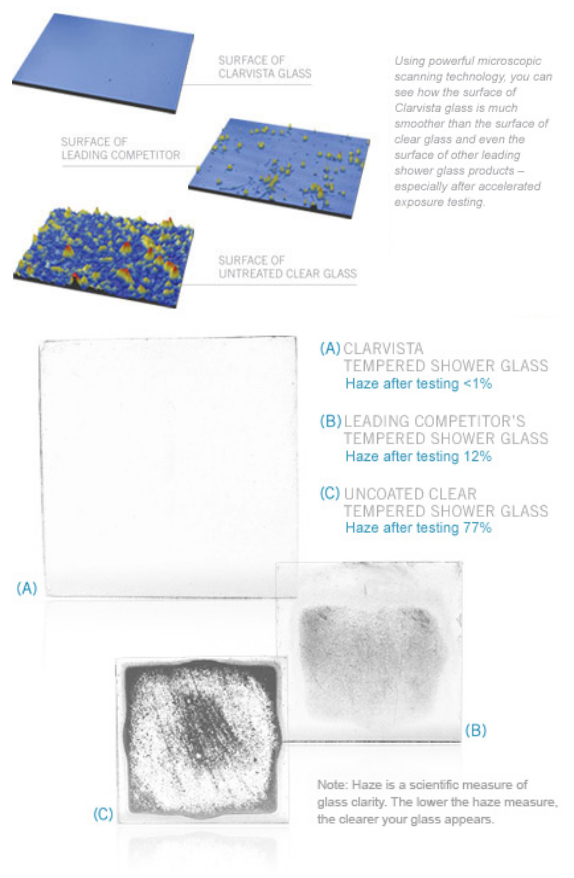 You can't tell by looking at it, or even by touching it, but glass is a surprisingly porous material at the microscopic level. Repeated exposure to the kind of heat, humidity and cleaning products that you'd find in a bathroom can cause corrosion. This corrosion can cause ordinary glass to change appearance – making your glass shower look cloudy. Even some products designed to guard against this corrosion still degrade over time.
Clarvista is Different
It has a coating, fused to the glass, sealing the glass surface to provide a protective barrier. The coating withstands the high temperatures required to thermally temper (strengthen) glass to meet safety codes for shower enclosures. Which is why, with regular maintenance, shower enclosures built with any of the available varieties of Clarvista glass can keep their "like new" look longer.
Why Clarvista Glass?
After harsh accelerated exposure tests to the heat, humidity and chemical exposure in a typical bathroom, Clarvista glass showed no signs of corrosion.
After these same tests, uncoated glass showed significant signs of corrosion.
Clarvista glass stands up to the rigors of routine cleaning better than other shower glass products. And most non-abrasive, off-the-shelf cleaners can be used on clavista glass.
Professional Builder editors name CLARVISTA glass among top new products. Clear, durable shower glass by PPG among 101 best new products of 2012.