90 Degrees Frameless Enclosures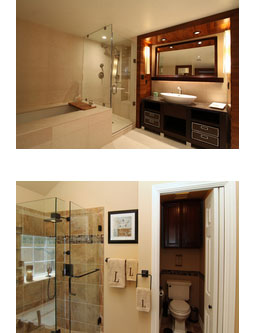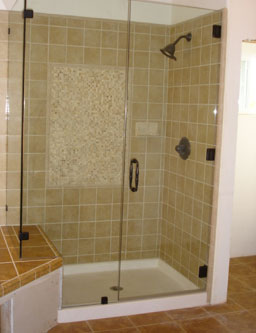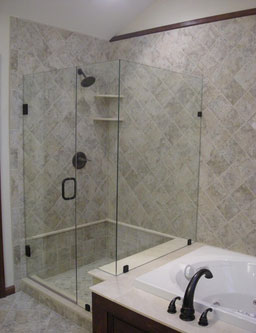 A beautiful shower enclosure is the centerpiece of any bathroom. It anchors the room, directs the light, catches the eye, and significantly increases the resale value of your home. Modern Glass Designs, Inc. can help you determine which glass shower or tub enclosure would be best for your bathroom, both in structure and style. Use our tub enclosure and shower door gallery to get some ideas, and then call us to design your custom order.
Inline Frameless Shower Enclosures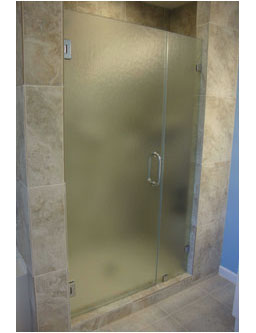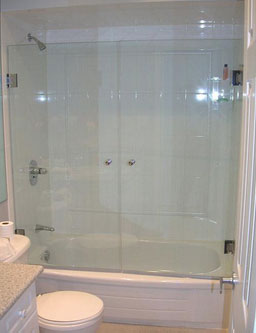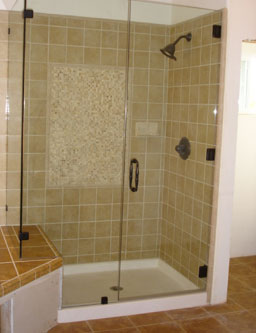 Frameless units give a more contemporary open look to your shower by eliminating a majority of the metal framework around the glass. Most frameless units utilize 3/8″ or 1/2″ glass and their design options are too numerous to list. These structures can provide simple elegance or elaborate architectural appeal to a bathroom. Please be aware that safety is always our number one concern and due to certain size and design limitations not every enclosure can be totally or even partially frameless.
Neo Angle Frameless Shower Enclosures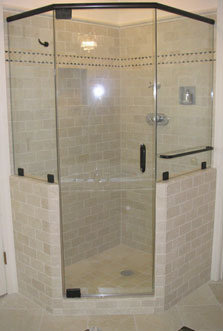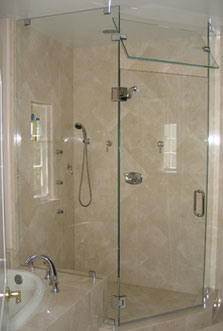 Most Neo Angle Showers consist of a center door with two fixed panels at a 135 degree angle on either side of the door. Neo Angles are ideal for smaller bathrooms with tight spaces, however, they are by far some of the hardest shower doors to build. Just like Deluxe custom frameless shower doors, frameless neo-angles require a lot of pre-planning design and layout. With custom angles comes complicated glass physics. This is our specialty and we take great pride in the complex one of a kind frameless shower doors we have been building over the years.
Steam Shower Enclosures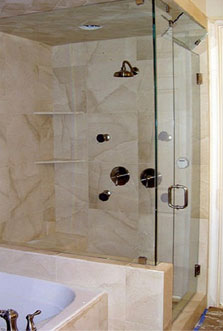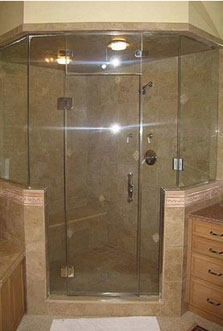 Steam showers have become very popular among the people in a very short time. The reason for this is the discovery of the health benefits that can be attained by having a steam bath. The idea of steam showers originated from the Roman Baths that used warm water from Natural hot springs to provide a steam bath to the people. However, in the steam showers of today, steam is supplied in through a humidifying steam generator instead of hot springs and a closed enclosure made of glass, acrylic or tile keeps the water vapor from
escaping the bath.